Mayoral Corporate Social Initiative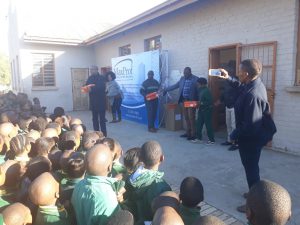 From the 10th – 11th July 2019 the Office of the Mayor together with the Acting Mayor for Letsemeng Local Municipality, Cllr S Bahumi and MaxProf were giving school shoes and jerseys to school kids in the Letsemeng Local Municipality area.
The schools visited by the Mayor and Officials from MaxProf are Ikanyegeng in Jacobsdal, Leretlhabetse Primary in Koffiefontein, Inoseng Primary in Petrusburg, AJC Jooste in Petrusburg, Holpan, Retswelapele ka Thuto in Luckhoff and Oppermansgronde School.
The Project was chosen by the Acting Mayor, Cllr S Bahumi as MaxProf's Mayoral Corporate Social Initiative.
"As part of our social corporate responsibility, MaxProf understands that it has a social responsibility and accountability as a sustainable organization and that it is our responsibility to uplift communities where we are auditing and earning," said Pamela Pege from MaxProf.
MaxProf spends a percentage of their earnings from the Municipalities back to the community by supporting the Mayor's chosen project.
"We appreciate the support and effort that MaxProf has given us in providing school shoes and jerseys for school children in Letsemeng, we hope to work again with MaxPro in the future, so as to uplift our communities" said the Acting Mayor, Cllr Bahumi.